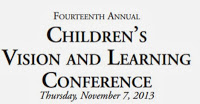 This conference is designed as an opportunity for school nurses, educators, administrators, school psychologists, occupational therapists and optometrists to learn about the relationship between vision and learning. It will also provide an opportunity for dialogue to explore ways to collaborate and to make sure that vision conditions don't hinder children's ability to learn.
Technology will be a focus this year, with presentations on using technology to accommodate for vision problems and about 3D Vision Syndrome in the classroom.
Thursday, November 7, 2013
DoubleTree by Hilton Wichita Airport
Wichita, KS
Registration Materials:
If you have any questions or need additional information, please send e-mail to

[email protected]

or call 1-800-960-EYES.
Comments: I will be lecturing at this conference. If you are in the area, please come and join us! DM