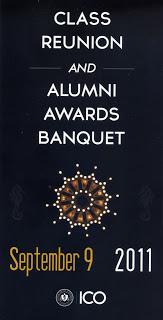 Yesterday, I had the privilege of acting as the MC during ICO's Class Reunion and Alumni Awards Cocktail Reception and Banquet at the
John G. Shedd Aquarium
. Each year, the ICO Alumni Association recognizes outstanding alumni and friends for their contributions to the College and to the profession. This year's recipients were:
•Alumnus of the Year Award - Walt Mayo, OD '85
I have known
Dr. Mayo
as student, colleague and friend for many years. He has helped to make
SECO
not just a regional or national meeting...but rather a true international meeting equal to or better than any other optometric meeting in the country. He even invented optometric social media with the
Optcom
email mailing list long before Facebook became popular! Dr. Mayo is truly an outstanding optometrist and ICO alum.
•
Young Alumnus of the Year Award - Geoffrey Goodfellow, OD '01, FAAO
Dr. Geoffrey Goodfellow is a co-faculty member of mine at ICO. I also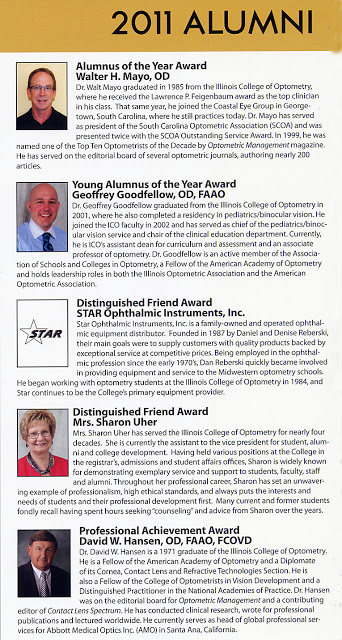 knew him as a student and resident and now as a colleague and certainly friend. Geoff is one of the most organized individuals on this planet. He serves as the Assistant Dean for Curriculum and Assessment, as a member of the Pediatric/Binocular Vision Faculty, Trustee of the Illinois Optometric Association, and co-author (with me) of the ASCOTech column of the Association of Schools and Colleges of Optometry's journal, Optometric Education.
•
Distinguished Friend Award - STAR Ophthalmic Instruments
This award was accepted by
Daniel and Denise Reberski
who started the company in the 1980's and have been incredible supporters of ICO for many years.
•
Distinguished Friend Award - Mrs. Sharon Uher
Mrs. Uher is a dedicated member of ICO's Student Services Team.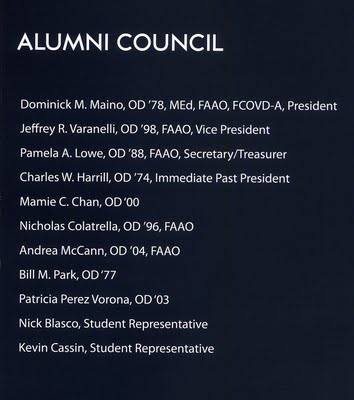 •Professional Achievement Award - Dave Hansen, OD '71, FAAO, FCOVD
Dr.
David Hansen
is one of those individuals who has done everything. You see his name in the AOANews, in Academy publications...and well all over. He is the complete, no copies available, all round OD!
•Excellence in Education Award - Dan Roberts, OD, PhD
Dr. Roberts almost single handedly has made research no stranger at ICO. He has received many grants...and thru his efforts discovered important aspects of glaucoma. We now have a full fledged research group at ICO.


•
Humanitarian Award - Illinois State Sen. Kwame Raoul and OneSight
Senator Raoul is an incredible individual. I have not had an opportunity to get to know him prior to this event, but after talking to him and seeing his deep, true pleasure at receiving this award, I understand how much of a treasure he is to ICO. He understands health care (his father was an MD) and the need of those who do not have ready access to this care. He is a humanitarian in the very best sense of the word.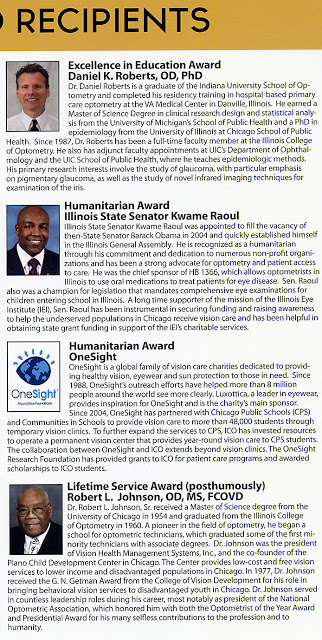 One Sight
has supported many programs at ICO including our project with the Chicago Public Schools.
•Lifetime Service Award - Robert Johnson, OD '60, MS, FCOVD (posthumously)
As I noted in a tribute I wrote for the
AOANews
about Dr. Johnson: "
Robert L. Johnson, O.D.
, was a true pioneer in optometry, a community leader and a man of great faith. I had an opportunity to meet and talk to him at several meetings over the years and to have an opportunity to know him even better through his daughter, Dr. Stephanie Johnson-Brown who was a classmate of mine at the Illinois College of Optometry. .....One of his greatest achievements was creating a multi-doctor optometric practice specifically designed and dedicated to the visual welfare of Chicago's children. As co-founder of the Plano Child Development Center and president of Vision Health Management Systems, Inc., he and his colleagues brought eye and vision care to those who needed it most even if they could not afford it. ..." Dr. Johnson was a true leader and the very best example of an ICO alumnus.
This was a night to remember the very best that ICO has given to the world. Congratulations to all the award recipients. Thank you for allowing me to celebrate your accomplishments. DM