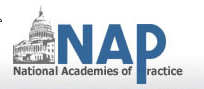 Dominick Maino, OD, MEd, FAAO, FCOVD-A and Andrea Thau, FAAO, FCOVD were recently elected into the National Academies of Practice for 2010-11. This Washington DC based organization is composed of distinguished practitioners and scholars within various health care disciplines including: dentistry, medicine, nursing, optometry, osteopathic medicine, pharmacy, podiatry, psychology, social work and veterinary medicine. Members work together to advance coordinated, accountable, accessible and affordable health care for all and to offer guidance and perspective to our health care policy makers within the United States and beyond.
As a Professor of Pediatrics/Binocular Vision at the
Illinois College of Optometry
, I am proud to note that my ICO colleagues Drs. Arol Augsburger, Sandra Block, Jan Jurkus, Alfred A. Rosenbloom (emeritus) and (off campus preceptors) Louise Sclafani, Joan Stelmack, Barry Eiden, and Tracy Williams are also members of NAP.
I am also proud of the many optometrists within the
College of Optometrists in Vision Development
who have been inducted into this elite institution as well including: Drs. Sandra Block, Kenneth Ciuffreda, Rachael Coulter, Paul B. Freeman, Daniel D. Gottlieb, Lynn F. Hellerstein, Eric T. Ikeda, Steven A. Levin, Sue E. Lowe, Carol E. Marusich, Robert B. Sanet, Arnold Sherman, and Glen T. Steele. (Emeritus members: Nathan Flax, Harold A. Solan).