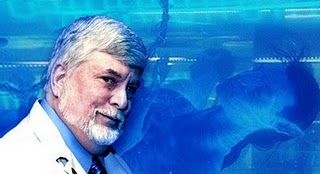 Dr. Dominick Maino (left) with the blue people of Avatar!
No, really. Millions of people are gallivanting around the U.S. unaware that they suffer from binocular vision conditions, including the inability to see in three dimensions. With the 3-D televisions already hitting shelves, one woman's trip to the optometrist can illustrate how easy those vision problems are to remedy and begin to enjoy 3-D again.

Shannon Wyatt has no interest in blue people. When her Avatar obsessed coworker hounds her about seeing the movie, she scoffs and tells him it looks stupid. After she's bombarded with more Avatar feedback and advertisements, she overlooks the stupid blue people and decides it may actually be worth spending her hard earned cash to see.

She and a girlfriend drive to the Classic Cinemas Lake Theatre in Oak Park, Ill. for a three o'clock showing of the 3-D megahit. Shannon has seen animated 3-D films like Walt Disney Picture's Up and A Christmas Carol in theaters and felt a little sick, but nothing serious. Shannon and her friend settle in to their seats, but not too close to the screen. She puts on her snazzy, Clark Kent spectacles and is ready for her 3-D adventure.

But an hour into the movie, just as she was starting to like those 10-feet-tall blue people, she develops a headache. Shannon explains it away and assumes it must be due to low blood sugar because she's only had coffee today. She reaches into her purse, finds a cough drop and eats it. It doesn't help. Then she realizes it's sugar-free, so that was useless. Still feeling dizzy and nauseous, she looks at her watch—two more hours of this.

As if by some divine omen, the 28-year-old athletic trainer received an e-mail three days later from a former co-worker and acquaintance, Dr. Dominick Maino, asking if anyone felt any nausea, dizziness, blurred vision or eye straining during Avatar. Hmm, check. Check. And check. Shannon went in Feb. 15 to get her eyes tested and a month later she started optometric vision therapy.

"I just thought everybody else was like this and they just handled it better than I did," Shannon said. "It was literally an eye opening experience. Looking back, I struggled a lot through grade school and high school. My freshman year of college, I found out I had a reading problem and I had to take a reading class and that helped with some stuff."

Dr. Dominick Maino, a Professor of Pediatrics/Binocular Vision at the Illinois Eye Institute/Illinois College of Optometry and editor of the journal Optometry & Vision Development, diagnosed Shannon with convergence insufficiency, accommodative problems and oculomotor dysfunction. In English? Shannon has little two-eyed, binocular vision. She has problems with visual tracking, focusing, eye coordination and maintaining the clarity of the 3D image. In even clearer English? She can't see comfortably in 3 dimensions.

Many people have had an experience similar to Shannon's and probably even explained it away as well. People with binocular vision issues usually don't even realize they have a problem. About 58 percent of adults 18 to 34 years of age suffer from a binocular vision disorder and about 5 to 7 percent of the population are affected by stereoblindess, or the inability to see in 3-D.

With the popularity of movies like Up, A Christmas Carol and of course Avatar, the film industry has inundated us with 3-D and technology companies have responded by making 3-D televisions that are already on display in stores like Best Buy. But consumers should probably get their eyes checked before more than $3,000 in the technology they may not be able to see.

According to the Nielsen Company, Americans spend close to 35 hours per week in front of the television. Children aged 2 to 11 reportedly watch television 25 hours per week and teens only two hours less than children. While there's no evidence that the prolonged use of 3-D television may be harmful, eyestrain is a concern of many optometrists because the screens are smaller than theater screens and we will inevitably sit closer to them.

Here's how polarization 3-D works: A liquid crystal screen over the projector circularly polarizes the light clockwise for the right eye image and counterclockwise for the left eye image. Remember those nifty glasses Shannon was wearing? They are polarized, so when a moviegoer watches a 3-D movie, the glasses team up with the screen and the right eye only sees the right eye image and the left eye only sees the left eye image. Once the brain puts the two images together the viewer should now see one 3-D image.

If you don't see the image, don't worry — not all is lost. If after a visit to the optometrist, you discover you have binocular vision problems, you will more than likely have to engage in some optometric vision therapy. Dr. Maino says this consists of procedures that help improve eye movement, eye teaming, focusing and perceiving 3-D. Therapy should typically last between three to six months.
Shannon still has a while before she can comfortably jump back into the 3-D saddle.
"I definitely don't want the TV. I wouldn't want that in general," she said. "I think I would try it as long as Dr. Maino gave me the okay to test it, but I'm a little hesitant."

Individuals with 3D Vision Syndrome will experience numerous technology induced symptoms. These symptoms can unmask vision problems that your Doctor of Optometry can diagnose and treat. To find an optometrist certified in optometric vision therapy, go to the College of Optometrists in Vision Development's website at http://www.covd.org and search on their Doctor Locator tab for help or if you are a Chicagoan contact the Illinois Eye Institute Binocular Vision Service at http://www.IllinoisEyeInstitute.com. There is no reason why your quality of life and your enjoyment of this new technology should be anything less than astounding!

For additional information Dr. Dominick Maino may be reached at

[email protected]

.He is also in private practice in Harwood Heights, Il. at Northwest Optometric Associates.
This article was written by
Alexa Harrison,
a student in the Journalism Program at Northwestern University. She can be reached at alexaharrison2010 @u.northwestern.edu.