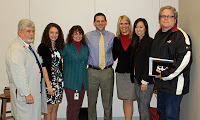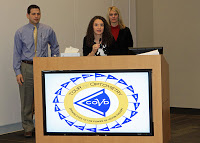 The College of Optometrists in Vision Development's (COVD) famous, Tour de Optometry was recently held at the Illinois College of Optometry. ICO graduate, COVD Fellow, Vice President and Board member, Dr. Kera Heying of Cedar Rapids, IA and COVD Board Member, Dr. Dan Press of Park Ridge, Il came to ICO to talk about How Vision Therapy Can Enhance Your Practice Opportunities As A New Graduate.
(Photo upper left: Dr. Dominick Maino, Ms Caitlin Eleftherion, Drs. Christine Allison, Dan Press, Kara Heying, Danielle Leong and Steve Devick. Photo left: Ms. Elertherion introducing Drs. Kaying and Press.)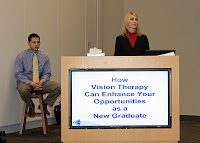 After an introduction by (soon to be doctor) and student COVD president, Caitlin Eleftherion, Drs. Heying and Press began their presentation to approximately 100 students. Before Dr. Heying began, she introduced Dr. Steve Devick, who has developed the King-Devick Test (the number one screening device for those with suspected concussion). Dr. Devick brought(ICO alum) Dr. Danielle Leong, the Vice President and Senior Director of Research for the King-Devick Test company.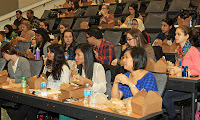 (Photo left: Drs. Press and Heying discussing how vision therapy can enhance your practice opportunities)
As Drs. Heying and Press talked, they noted that bringing the specialty of Optometric Vision Therapy to an existing office offers the established doctors a way to expand the services available to existing patient, develop a new patient base and to grow the office as well.
(Photo left: ICO students lunching and learning at the COVD Tour de Optometry program)
Before talking to the students, Drs. Heying and Press met with the Pediatric/Binocular Vision Faculty at the Illinois College of Optometry to discuss what COVD has to offer to faculty at our nation's optometric institutions of higher education. All schools and colleges train future optometrists in the art and science of pediatrics, binocular vision, developmental vision and optometric vision therapy.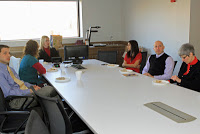 Numerous ICO faculty
were
present including: Drs.
Kelly Frantz
,
Geoffrey Goodfellow
, Kelly Yin,
Christine Allison
and
Dominck Maino
. ICO's
pediatric residents
were also in attendance (Drs. Alison Leuon and Birva Kadakia). All of these faculty members are also seeing patients at the Illinois Eye Institute, the clinical arm of the Illinois College of Optometry.
(Photo left: ICO Faculty listening to the presentation by Drs. Heying and Pressing)
Many ICO faculty are either members or Fellows of COVD with Dr. Christine Allison being the Secretary/Treasurer and member of the Board of Directors and Dr. Dominick Maino the editor of COVD's official journal, Optometry & Vision Development and now the founding co-editor of COVD's new journal, Optometry & Visual Performance (OVP). [OVP is a joint effort with the Optometric Extension Program Foundation and the Australasian College of Behavorial Optometrists.)
More photos available on the Dr. Maino's Facebook page. Click here.